Benefits You Can Expect from Artificial Grass Installation
Nowadays, most of the people who have unappealing lawns are using artificial grass to revive the beauty of their property, particularly the outdoor space.
Some people believe that artificial turf is not a worthy alternative to real grass, but if you learn more about it, you will soon come to realise that it is a sensible investment after all. If you are concerned about the maintenance of a traditional lawn with real grass in it, then you eliminate that concern with the installation of artificial turf Sunshine Coast. Read what we have to say below so that you end up embracing the concept of going synthetic when it comes to grass on your lawn.
Unlike real gardens that demand regular watering both in the early morning and late evening, synthetic turf doesn't require any water to maintain its excellent quality. The only time that you will need water for your artificial turf is when cleaning that only happens sometimes. To get rid of the dirt, you need to hose the blades off with a short burst of water. Admittedly, you'll be surprised at how it will significantly lessen your regular water bill. It is one of the ideal investments for your home if you want to escape costly utility charges today and in the future.
Artificial grass Sunshine Coast is incredibly safe for children including your beloved pets since it does not need any weed killers, fertilisers, pesticides or any other chemicals to keep your lawn healthy. It is the main reason why most cities use artificial lawns in public places like parks to keep children safe from any harmful chemicals.
Mowing is one of the house chores that every homeowner likes to despise. Although it is necessary when you have a natural lawn, this task becomes a massive burden to some property owners. Fortunately, you will no longer have to deal with this task if you opt for artificial grass. Since plastic grass will never grow, you will now have extra time playing with your kids and pets, talking with your family in your yard free from any worry.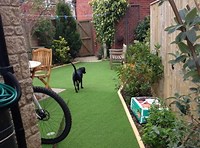 Although you will no longer need to mow your artificial grass, it still needs to be given some attention when it comes to maintaining its beauty. But you don't have to worry about since cleaning and keeping it is so much easy. You can remove the large organic materials easily by using a leaf blower while a natural bristle broom can fluff the areas that get a lot of traffic. The only time that your artificial grass will need some water is if there is tough debris that needs clearing. Note that if you don't have any dogs at home, you'll be free from cleaning poop, dander, and other pet stuff.