Clear Benefits of Opting for a Pro for Your Bridal Makeup
As a woman, you would undoubtedly want to be at your best look at your wedding. You would want to think about hiring a makeup artist for your wedding; however, it is difficult for you to know whether you should do it. But for this review, we will tell you precisely why working with Marion-Lee bridal makeup makes perfect sense for your wedding.
1 – You want to be stress-free on your biggest day.
Being stress-free on your wedding day might be the most significant advantage when it comes to employing a makeup artist to help you get ready. Your wedding day will undeniably be hectic, and there could be several unexpected issues that come up, so don't let your appearance to be something you have to worry. Definitely, you do not want to worry about getting your makeup while trying to ensure the food and cake are delivered to the reception on time.
You can just relax and let somebody else pamper you when you hire a makeup artist for your special day. Another good thing about working with a makeup artist is that before your wedding, they will meet with you for a sample run of your makeup to guarantee that you get the precise look that you desire.  Such will facilitate to ensure that your makeup is perfectly done base on how you would like it to be and in a trendy fashion on your special day.
2 – A professional makeup artist will guarantee the use of proper colours.
As experts in the field, makeup artists do study the appropriate selection and art of colours. From the perfect foundation and lip colours to the proper eye shadows, makeup artists have the skill and the knowledge to know exactly how to choose the colours that will look the finest on you that takes into consideration your unique colouring.
On your wedding day, you will be definitely photographed more than on any other day of your whole life; thus, you want to have on pleasing makeup.  Furthermore, most people's necks are a bit darker in colour than their faces, and makeup artists know how to blend your makeup so that the differences are thoroughly concealed, and you will look more natural on your special day.
3 – An expert in bridal makeup will use the best products available.
Since using cosmetics is what makeup artists do for a source of living, almost all of them have a kit that is well-provided with expensive and superior quality products that have been perfectly-designed for levels of flexibility and wearability that you might can't afford on your own. You will have access to numerous products that you most likely would not have plus having it expertly applied when you hire a Marion-Lee bridal makeup
4 – The expert guarantees proper makeup application.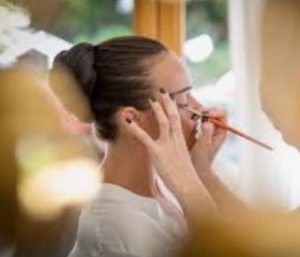 As professional makeup artists, they practice their art of makeup application every day.  They become expert and knowledgeable on appropriate methods for applying makeup and have worked on many various faces. You might end up not getting the best results of your desired looks if you have not studied how to apply makeup accurately and are not a makeup artist yourself.
Lastly, it provides you with the opportunity to still look like yourself but a perfect version of you when you hire a makeup artist to help you on your wedding day.