3 Ways You Can Transform Your Yard with Guaranteed Garden Services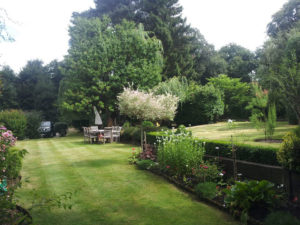 Since the summer season is fast approaching, you're probably thinking of the various ways you can spend time outside in your lawn and enjoying the summer sun. You can also relax and enjoy the outdoors under the shade. At Guaranteed Garden Services, we want to help you make your yard functional and attractive as possible. Here are three ways that we can do to transform your yard from a simple so-so to a guaranteed eye-catcher:
1.) Add a Pergola
Your yard is an open space, which is why it needs a feature that can provide some much-needed shade – like a pergola. When you want to spend time outside on a hot day, you're probably looking to relax and enjoy the surroundings. A pergola lets you achieve just that! It's a versatile outdoor structure, in that you can turn it either into a garden feature, or an outdoor shade system. Apart from its expert gardening services, Guaranteed Garden Services can also help you install outdoor features like a pergola to help boost the beauty of your lawn even more.
2.) Incorporate Soothing Greenery
Guaranteed Garden Services offers comprehensive gardening services that will not only get you the best-looking yard but the greenest lawn as well. There's just something soothing about the green colour that relaxes and invigorates the senses. To achieve this, we will perform the following:
   Mow your lawn and keep it clean, tidy, and healthy.
   Execute proper gardening procedures so we can deliver your dream garden.
   Conduct irrigation since Adelaide and several other parts of South Australia features a harsh, dry climate.
   Install artificial turfs to add some much-needed value to your home without having to exert much effort.
All of our services will guarantee a greener and healthier lawn. Acquire our expertise to get the greenest lawn.
3.) Clean Your Lawn Garden
In addition to incorporating some much-needed feature, Guaranteed Garden Services will also help you with pre- and post-cleaning. We want you to get the most of your gardening investment, so we make sure that we clean things up before and after every operation not just to maximise the overall value of your home but to also give you the convenience of not having to do the cleaning on your own.
Choose Guaranteed Garden Services!
If you want to get the best out of your lawn and garden, you should choose only the best service provider for the job. In Adelaide, no firm comes close to Guaranteed Garden Services. Contact us today for a free quote, or you can visit our website at www.guaranteedgardeningservices.com.au to know more about our services and offers.