Benefits of Having Screen Doors Adelaide at Home
Screen doors are among the most popular accessories that you can add to your home. With the latest innovations in screen technology, along with a wide range of customizable solutions, you won't need to compromise any security feature or style. With that said, below are some of the benefits of having screen doors Adelaide at home:
Get More Natural Light in the Front of Your House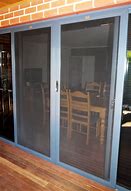 By installing a screen door, you can achieve better lighting inside your house. With a screen door installed in front of your home, you'll be able to add some natural light inside your living room and in other rooms adjacent to it. The beauty of screen doors Adelaide is that while it lets natural light in, it prevents any heat from penetrating. That means your home temperature will remain normal despite the added light from the outside.
Good Insulation
As we just mentioned, security doors provide good lighting inside the house without letting heat in with it. That means it's an excellent insulator for your home. It's an excellent contributor for both coolness and warmth, which is a great feature to have for your home. Screen doors promote coziness and maximum comfortability inside your house. So if you're looking for a second layer to your main door that does more than what it's supposed to do, screen doors are the best option for you.
Add a Second Layer of Protection to Your door
Most screen doors Adelaide are made from aluminium or steel. While it may not seem like a durable material, the added layer is more than enough to boost the security measures of your home. With a screen door, intruders will have to go through two doors to get inside your house. The sight of a screen door along can already discourage anyone from trying to infiltrate your home.
Make Your Home More Inviting
There's something truly magical about being able to see your guests as they walk up to your front door. Screen doors make your home more inviting, which makes your guests comfortable to come inside your house. It's also great for different occasions such as house parties, family gatherings, colleague get-together, and so much more. So if you want to make your home more attractive and inviting, you can add that wow-factor by adding a screen door to the front of your house.
By adding screen doors to your home, you will achieve several perks, as well as the peace of mind that you deserve. So what are you waiting for? Get a screen door today! Call our hotline now for professional installation of the best quality screen door available.