Why You Should Install Bifold Doors Adelaide at Home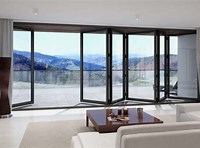 Bifold doors are all the rage right now in the home improvement department. The homeowners' enthusiam for bifold doors are starting to shift their attention towards this innovative product. They're the designer's door of choice for modern and futuristic homes. Glass bi-fold doors Adelaide are popular right now because of their ability to allow the maximum levels of natural light to enter homes and buildings. At the same time, they also offer high-level privacy and security when needed. Due to their solid glass construction and ease of use, bifold doors are perfect for both residential and commercial applications. It provides the option of enjoying great natural lighting, as well as if you want to turn your outside space into another usable space. With all that said, here are some of the advantages that you get when you switch to glass bifold doors:
Slim Design
Glass bi-fold doors are less conspicuous as compared to traditional doors or French doors.  With its slim profile, glass bifold doors allow maximum visibility without making compromises to strength and durability. Furthermore, it offers a highly modern look and feels which is very welcoming to have in today's day and age.
Low Maintenance Door
Made with high-quality aluminium and UPVC, glass bifold doors Adelaide requires minimum maintenance. They will look good all the time even if you don't maintain it as often. It will only need the occasional wash and periodic dash of oil to its grooves, and it will serve you very well for many years to come.
Safety & Security
With its slim profile, glass bifold doors ensure maximum possible visibility and glass area. You'll have great views of your outside space even when it's closed. At the same time, glass bifold doors are 100% weatherproof, along with offering excellent thermal insulation efficiency. Bifold doors are also very secure as it is also used in commercial and domestic environments.
Extreme Versatility
Enjoy great weather even when inside the comforts of your home with a bifold door. This door allows seamless integrations between your garden and the interior, providing free movement inside and out of your property.
Modern and Contemporary
Finally, glass bifold doors Adelaide boast highly efficient and sophisticated folding technology, giving you years of trouble-free use. The versatile design that it boasts can look aesthetically pleasing in any modern contemporary establishments and even older properties. It's a fantastic all-around door that will provide a modern look to your home.